5 Fantastic Nendoroid Toys You Need To Check Out!
Aug 25, 2017
Nendoroid toys are a line of plastic figures produced by the Good Smile Company since 2006. These figures are caricature-like in their appearance with larger heads compared to their bodies and often showcase anime, manga, or video game characters. Nendoroids are posable and interchangeable, which makes them a great gift for kids and collectors since there are so many options possible for each figurine.
Today, Plaza Japan is excited to display five of our most fantastic nendoroids on our site. We have some of the most beloved characters from comics and anime, like Ash from Pokémon and Spiderman from the Marvel series of comic books.
1) Mitsuha Miyamizu (Your Name)
First, we have Mitsuha Miyamizu from the movie, Your Name, which involves the romance between Mitsuha and Taki. Mitsuha's Nendoroid comes with 2 faceplates: a gentle smile and one with writing on her cheek.
The school bag she carries has the hedgehog insignia on it from the film, and can be interchanged with her hand holding a pen. For the collectors out there, make sure to grab the Nendoroid Taki as well, so you can have the anime's stars together once again.
2) Alphonse Elric (Fullmetal Alchemist)
Our next Nendoroid is Alphonse Elric, or AI, from the Fullmetal Alchemist series. Alphonse comes equipped with his iconic metal suit of armor and has been fitted with multiple joints to show off the many different poses he uses throughout the series.
As one of our fantastic nendoroid toys, he has 3 unique faceplates, which include his standard face with articulated eyes and both his flustered and relaxed faces in chibi-style. He also comes with 2 different cats to display around him, as well as a removable chest plate to view the cat laying inside his armor, since he is known as a cat-lover in the story.
3) Ash & Pikachu (Pokémon)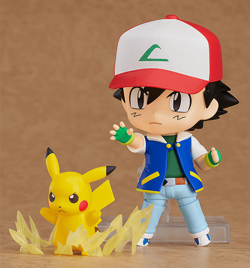 As one of the most popular and ubiquitous anime series of all time, our next Nendoroid is Ash Ketchum and Pikachu from Pokémon. The Ash character includes an optional Poké Ball and 3 faceplates: a regular smiling face, a gentle, affectionate face, and a serious face.
Ash's hat can be worn both forward and backward too, so there are 6 different face combinations you can choose from with this Nendoroid. Finally, Pikachu comes with 2 different faceplates, a standard smile and a battle face.
4) Morgana (Persona 5)
Next up we have one of our favorite Nendoroid toys, the feline mascot Morgana from the video game Persona 5. With separate mouth and eye parts in four different options, there are 16 unique possibilities with this cute cat. Optional accessories include Morgana's slingshot and saber weapons from the game.
5) Spider-Man (Spider-Man: Homecoming)
ur last Nendoroid character is Spider-Man from the recently released ovie. Dressed in his usual super-suit, Spider-Man comes with 3 faceplates, which demonstrate his range of emotions throughout the movie.
The character also comes with a Peter Parker head and spider web parts that you can use to show off Peter's true crime fighting ability.
Where Can I Find These Fantastic Nendoroid Toys?
We have one of the best selections of Nendoroid toys from Japan available. If you would like more information about our other Nendoroid products, contact us today!