It's time for the fire to burn twice as strong! One of the most popular Pokémon in existence is set to return in Tag Team form as the latest core expansion from the Pokémon TCG takes centre stage once again - introducing SM10, Double Blaze!
Released March 1st and available to order from Plaza Japan now, SM10 is the brand-new 95+ card core set ready to Blaze past your opponents! Not only are we talking about the return of one Fire-type Pokémon in particular, but Double Blaze also introduces some of Kanto's finest, seen for the first time in the Sun and Moon era!
So, let's break the news - Charizard is back - but it's not alone! Joining Charizard making its Tag Team GX bout is an almighty Unova legend - Reshiram & Charizard GX! It'll take more than a legendary Pokémon to upstage Charizard, however. This fiery duo will be adorning both the box art and pack art this time, once again beautifully drawn by the iconic Mitsuhiro Arita, nearly 23 years on from Arita's iconic first Charizard in 1996 Base Set.
What are we to expect from Reshiram & Charizard GX? Well, as you may have noticed by now, the GX attack of the main Tag Team card is named after the set itself - Double Blaze GX. This GX attack needs three Fire Energy and will hit your opponent for 200 damage, but that's not all. If Reshiram & Charizard have a further three Fire Energy attached (a total of six), then it'll burn through the opposition for 300 damage and will no longer be affected by any effect on your opponent's Active Pokémon! When this flaming partnership enters the stadium, your opposition's hopes will be left in ashes!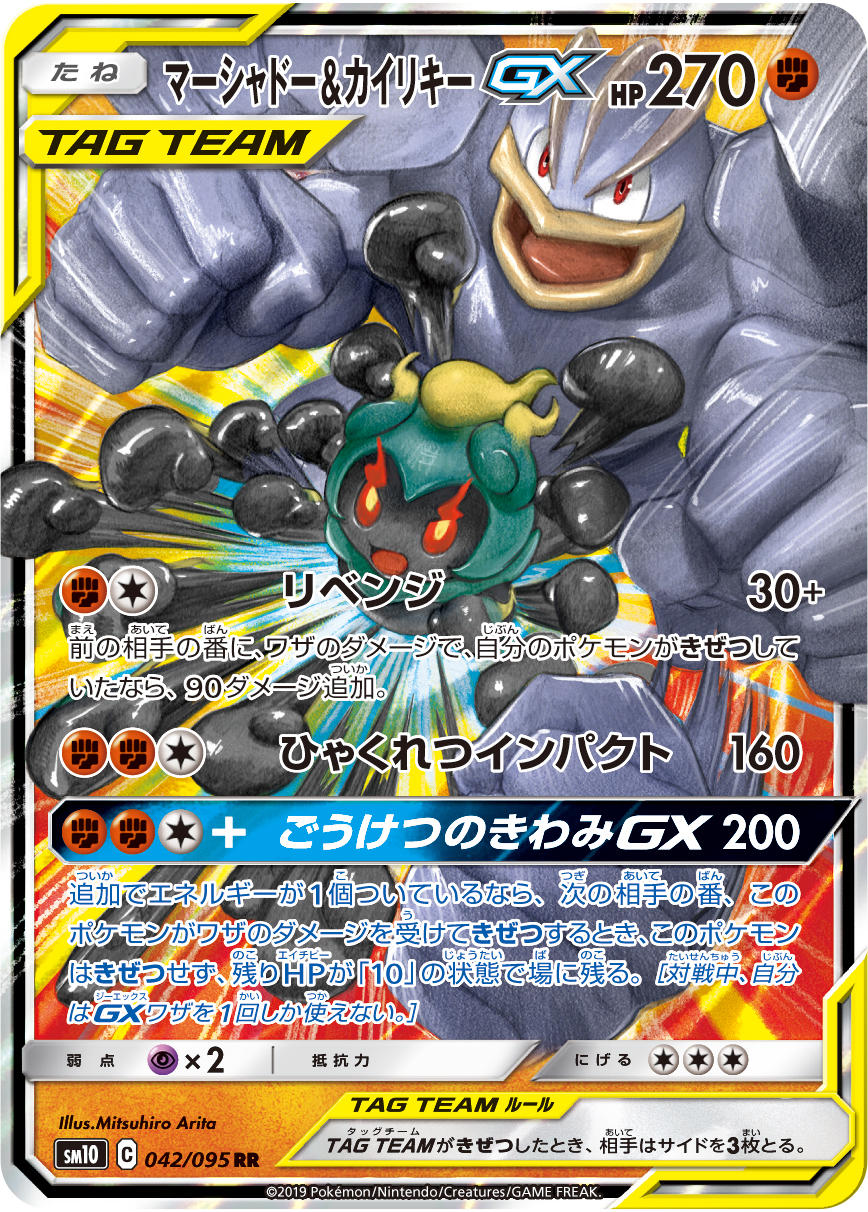 Can you handle more? Five more to be precise. With SM10 being a core expansion, this means we're treated to six new GX cards rather than four, three of which are Tag Team GX cards! Reshiram & Charizard GX is the beginning of a long nostalgic journey as Double Blaze has even more Kanto-featuring teams, starting with Marshadow & Machamp GX!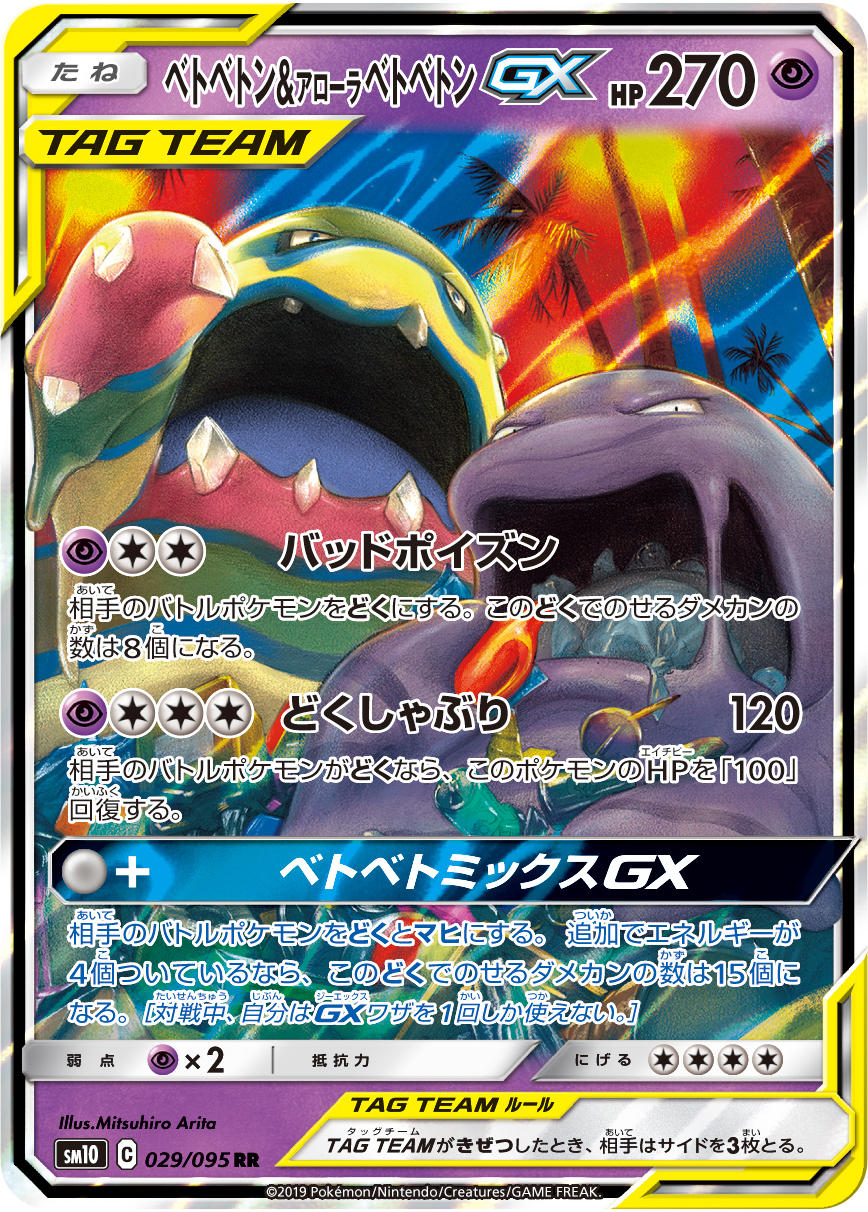 These piston-punchers stand strong and hit hard, as the Heroic Peak GX attack will strike 200 damage, and if there's an additional energy attached to Marshadow & Machamp GX, any knock-out on the following turn will leave it still standing with 10 HP. That's some eye of the tiger stuff!
Wrapping up the Tag Team GX card is another first for the Pokémon TCG - Muk &... Muk?! That's right - for the first time since the introduction of Tag Team GX cards, we have an Alola variant teaming up with its Kanto counterpart – Alolan Muk & Muk GX ! Who knows what doors this will open up in future, but we would love to see something like Alolan Raichu & Raichu at some point! Take notes, Pokémon!
Joining the Tag Team GX cards are of course the regular GX Pokémon. SM10 also has Honchkrow GX , Whimsicott GX and another Kantonian, Persian GX, hidden away. You'd be forgiven for thinking that this was a Kanto-themed set so far, but that's not strictly true despite its heavy influence. Just wait until we get to the Supporters!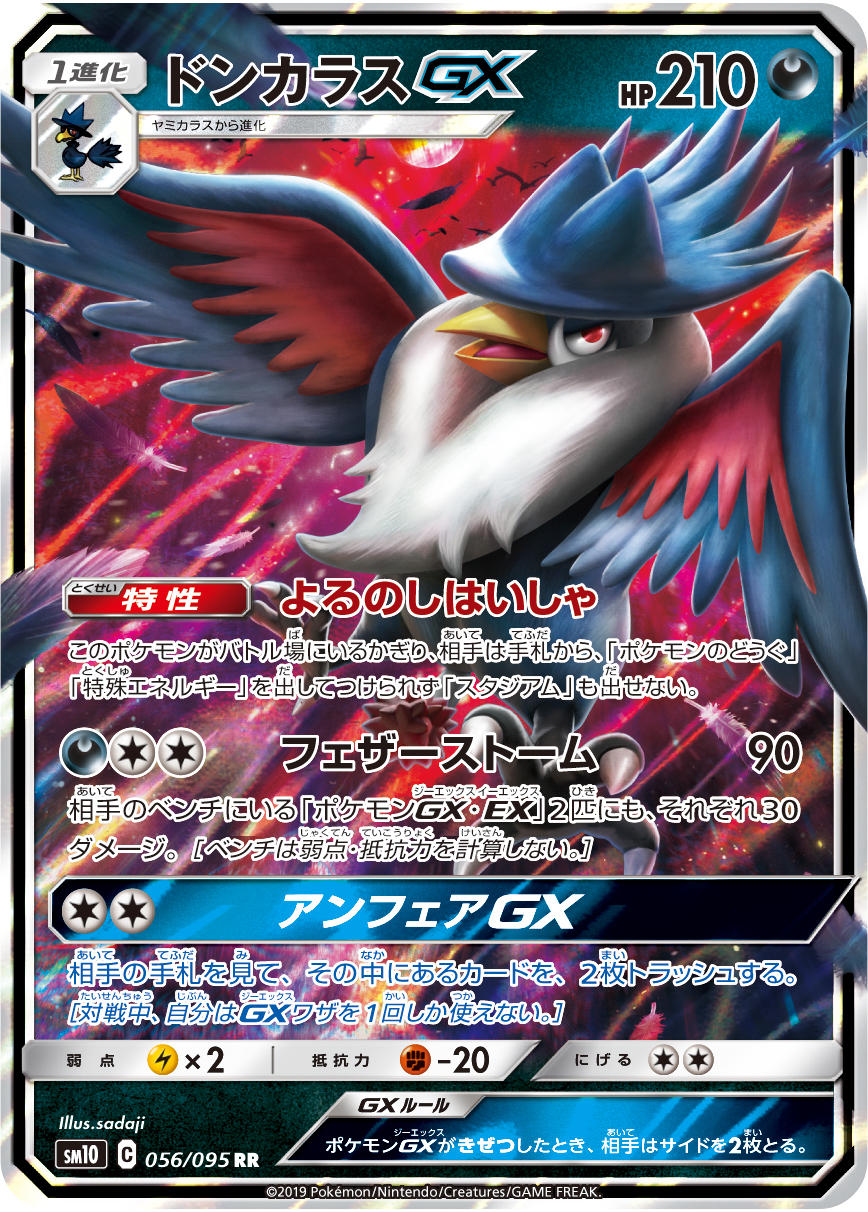 But first, we have some other Trainers to attend to! The TR "Trainer Rare" reprints are back with some awesome alternate art! Bringing the heat this time around we have the Items Flint and Rescue Stretcher along with the Supporters Kiawe and the oh so popular Cynthia! Cynthia might just well be the first Supporter to have two full arts and two holo cards. As expected, the alternate art on these cards looks great and remember, it's one TR card per box, so pick your favourite and cross your fingers!
Moving on to new Items, SM10 introduces three to be found. Crushing Ice Axe, Fire Crystal and Dusk Stone are all here and ready to assist you in battle. Fire Crystal for instance will allow you to put three Fire Energy cards from your discard pile to your hand! That should get Reshiram &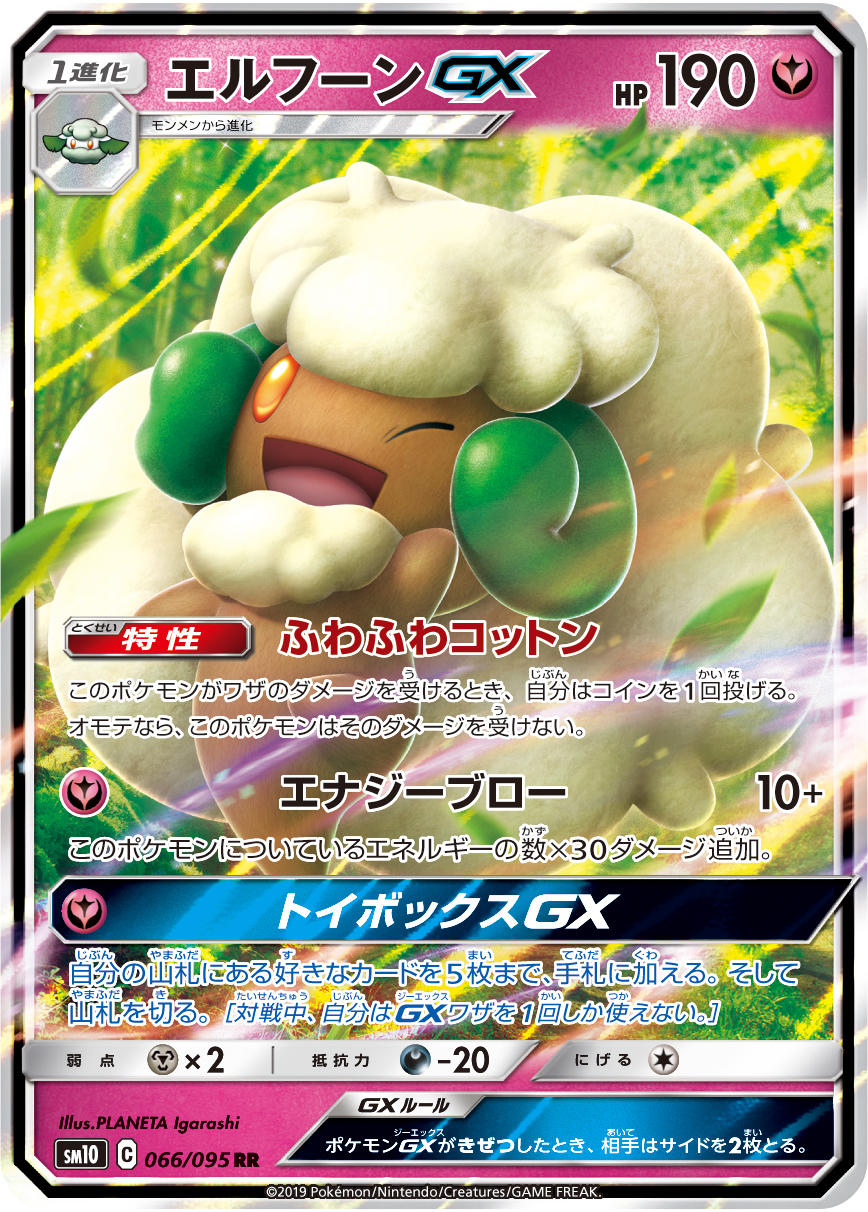 Charizard GX fired up for sure.
It's unclear yet on just how many of the new Items will get the golden Ultra Rare "UR" card, or even if we're set to see more Stadium cards shine! Speaking of Stadium cards, Double Blaze also has Fighting Dojo and Dust Island hidden away!
If you were not satisfied with the influence of Kanto on this set so far, allow us to turn the flame of nostalgia into a roaring inferno as we take a look at the Supporters! After Full Metal Wall gave us the surprise introduction of Blue in "Blue's Search" last time out, it seems Pokémon is not yet done playing with the past. This time they've given us the main protagonist himself. Red.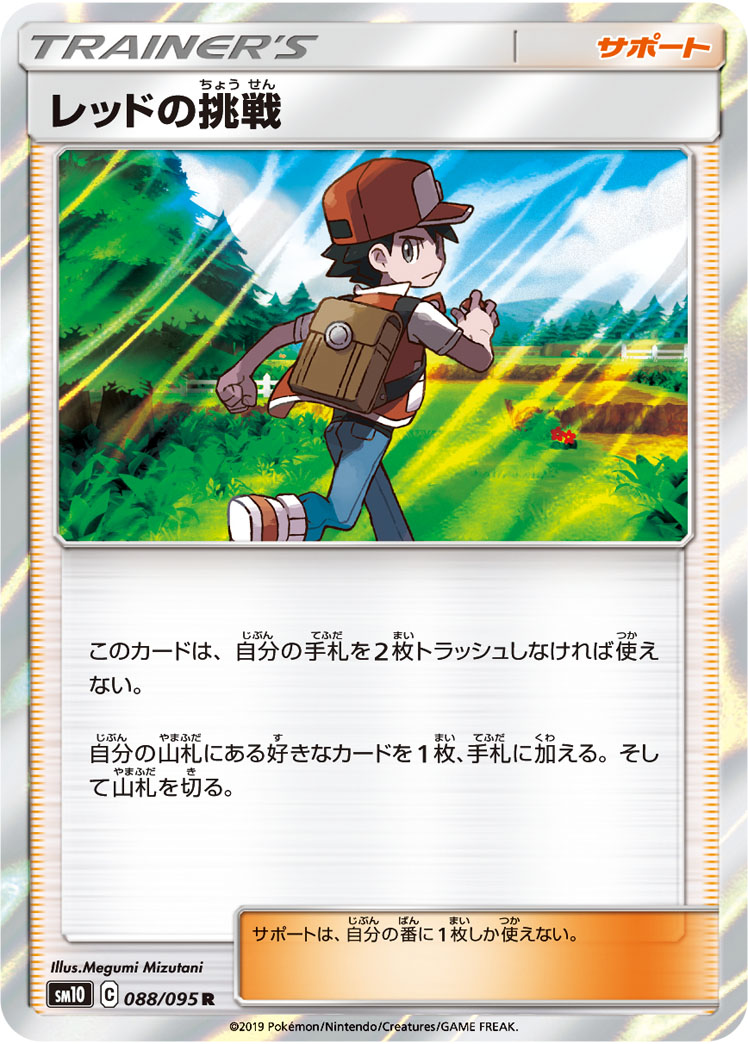 Red's Challenge is the incredible brand-new Supporter set to scorch the TCG and if that wasn't enough, we already have an incredible confirmed Red's Challenge Full Art "SR"! Quite possibly the pinnacle of all characters, this card allows you to discard two cards and add one card from your deck to your hand. Not just a nostalgia trip with an effect like that. And we're not done.
Every hero needs an antagonist. In the original Red, Blue and Green games, you of course play as Red travelling through Kanto on your very first Pokémon journey - often thwarting the plans of one Team Rocket. This culminates in a showdown against the boss himself, and once more, he has arrived in Double Blaze.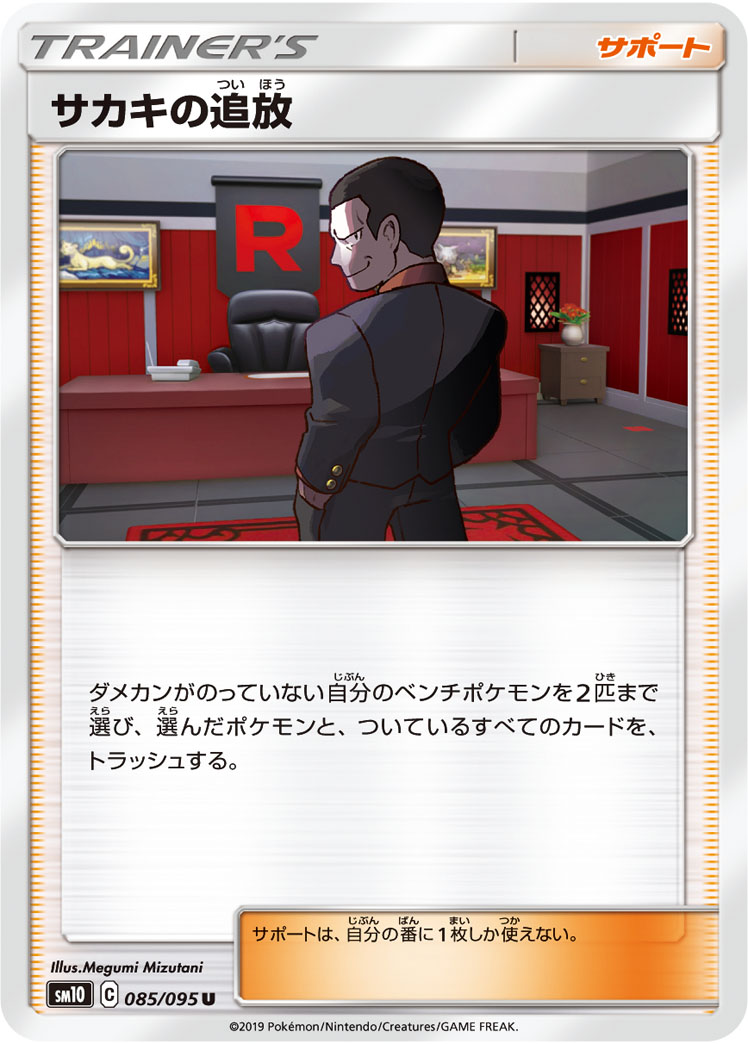 Giovanni. The infamous leader of Team Rocket joins Red as Giovanni's Banishment hits the TCG for its debut. A character of surprising popularity, and perhaps an even more usual effect. Playing Giovanni's Banishment lets you choose up to two of your Benched Pokémon that have no damage counters on them. Discard those Pokémon and all cards attached to them? Only Giovanni would be so cruel to banish your own Pokémon! It's up to you to decide how to utilise this power, and we're astonished to say that Giovanni's Banishment also has a breath-taking confirmed "SR" Full Art variant! Wow!
The last Supporter added is the Fire-type assisting Welder. The anticipation of if Welder will be joining the other Supporters as "SR" is incredibly exciting! A Full Art pairing of Red and Giovanni is already too much to miss and would probably have to go on the wall somewhere too.
Are you ready to ignite your deck with SM10? Things are burning up with Reshiram & Charizard GX ready to send the opposition up in smoke! Perhaps you want to add an entire roster of Kanto Pokémon to your deck, or maybe you just must have Red's Challenge and Giovanni's Banishment for the collection? There's something for everyone here in Double Blaze, so don't miss out and order from Plaza Japan today!