Top 5 Must-Have Hasegawa Model Airplanes
Posted by admin on Sep 11, 2017
Since 1961, Hasegawa has been a leading manufacturer of plastic scale models. The company is based in Shizuoka, Japan, which is also home to another comparable model company called Tamiya. Both Tamiya and Hasegawa offer similar products, so naturally there is a bit of a rivalry between the two companies.
The main difference between Tamiya and Hasegawa is that Hasegawa model kits tend to be more difficult to assemble, making them ideal for experienced builders or hobbyists who enjoy challenging themselves. Both companies offer excellent products, and there's certainly nothing wrong with having both in your collection.
In this article, we're going to focus on Hasegawa model airplanes. These kits are known for their meticulous attention to detail, and they're so accurate that they're often used in museum displays. Let's take an in-depth look at five our absolute favorites, in no particular order.
1. Hasegawa 02249 Kawasaki T-4 "Blue Impulse 2017" 1/72 Scale Kit
The Blue Impulse Kawasaki T-4 1/72 scale kit is incredibly detailed and built to last. These aircrafts have a fascinating history that these Hasegawa model airplanes honor beautifully.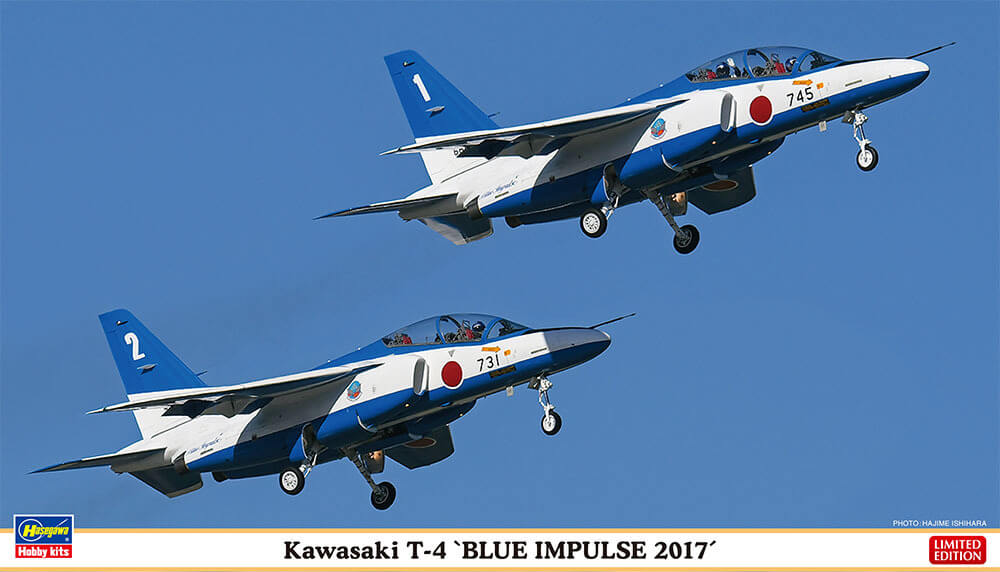 Blue Impulse is the elite aerobatic demonstration team of the JASDF, or Japan Air Self-Defense Force.The team started in 1960, using six F-86 Sabres. In 1980, they switched to Mitsubishi T-2 planes, and then in 1995 they started using the Kawasaki T-4 that's still in action today. The team regularly flies out of the Matsushima Air Base for air shows.
The T-4 is a high-performance subsonic intermediate jet trainer aircraft that fits two pilots in tandem. These agile, aerodynamic aircrafts are known for their ability to perform combat maneuvers at high speeds.
This limited edition 67-piece kit includes two T-4 planes with decals for JASDF 4th Air Wing, 11th Squadron Blue Impulse Team, Matsushima Air Base, 2017. Like all Hasegawa model airplanes, you can expect this kit to meet the high standards of discerning builders. If you're into aerobatics, this kit is a must-own.
2. Hasegawa 02250 EA-18G Growler "VAQ-141 Shadowhawks 2017" 1/72 Scale Kit
The Electronic Attack Squadron 141 (VAQ-141), or "Shadowhawks" as they're known, fly Boeing EA-18G Growler aircrafts. These Growlers are American-made, and they're used to jam enemy electronics. These fascinating aircrafts were first utilized in Operations New Dawn and Enduring Freedom, and today the unit is forward based in Atsugi, Japan.
This stunning Boeing EA-18G Growler 1/72 scale kit is sure to elevate any collection. It's a skill level 3 kit with 177 pieces, so some prior experience with Hasegawa model airplanes or other complex kits is highly recommended. This model would make a fantastic long-term project for someone who really loves to sink their teeth into a build.
3. Hasegawa 07456 Sea King Har. Mk.3 "Falklands" 1/48 Scale Kit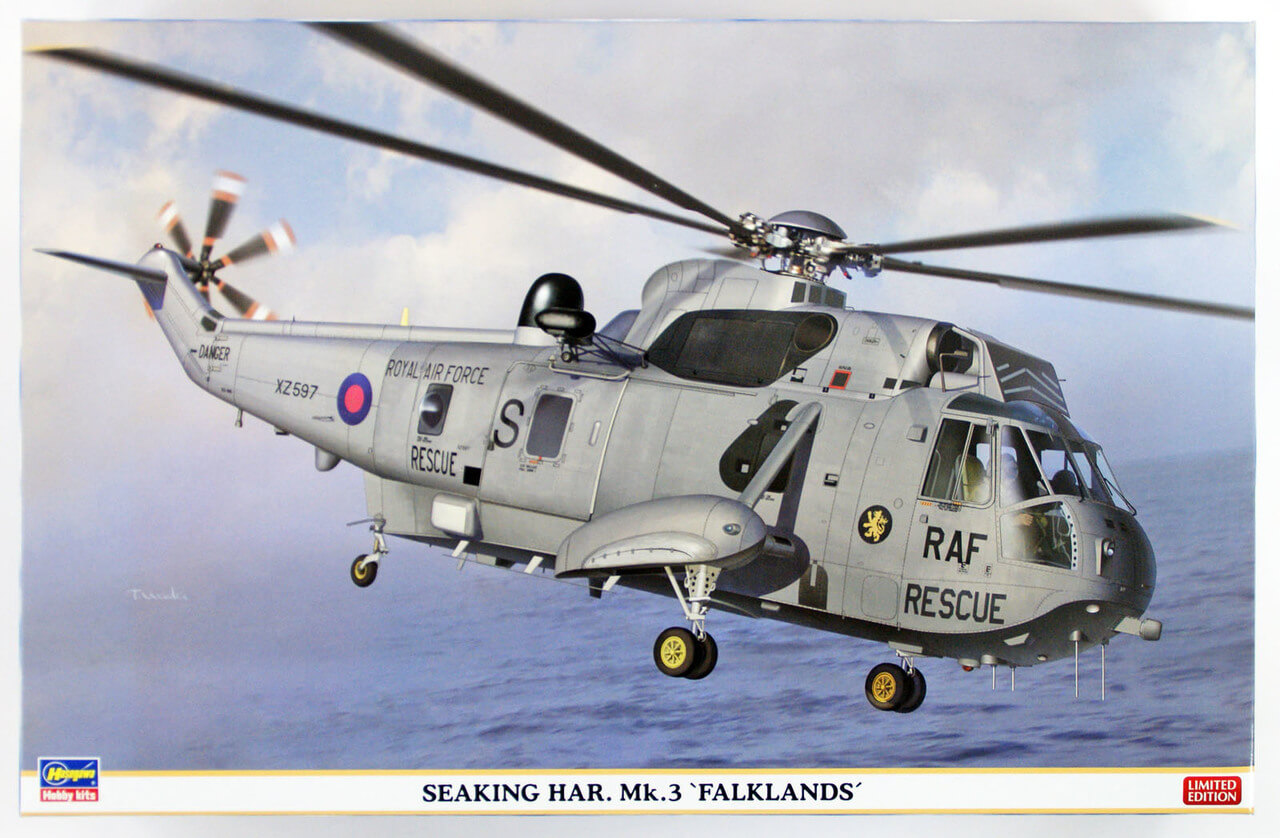 While it's technically not an airplane, we just had to include this awesome Sea King Har. Mk.3 "Falklands" 1/48 Scale Kit. Sea Kings were mainly used by the British Royal Navy and Royal Air Force for anti-submarine warfare missions, and they were also used during the Falkland War to run supplies and soldiers to the Falkland Islands.
Following the war, Sea Kings were frequently used as search and rescue aircrafts, and the distinctive sound of the rotors is often called "the sound of safety."
This fantastic scale kit pays homage to these powerful helicopters, providing exceptional attention to detail. It's a skill level 3 kit with 195 pieces, so it's perfect for builders who are looking for a challenge. The kit includes two decal options:
RAF 78SQ. Code: XZ597 RAF Mount Pleasant A.B. Falkland Islands 1990
RAF 1564 Flight Code: XZ591 RAF Navy Point Falkland Islands 1983
4. Hasegawa JT62 Nakajima B6N2 Carrier Attack Bomber Tenzan (Jill) Type12 w/ 250kg Bombs 1/48 Scale Kit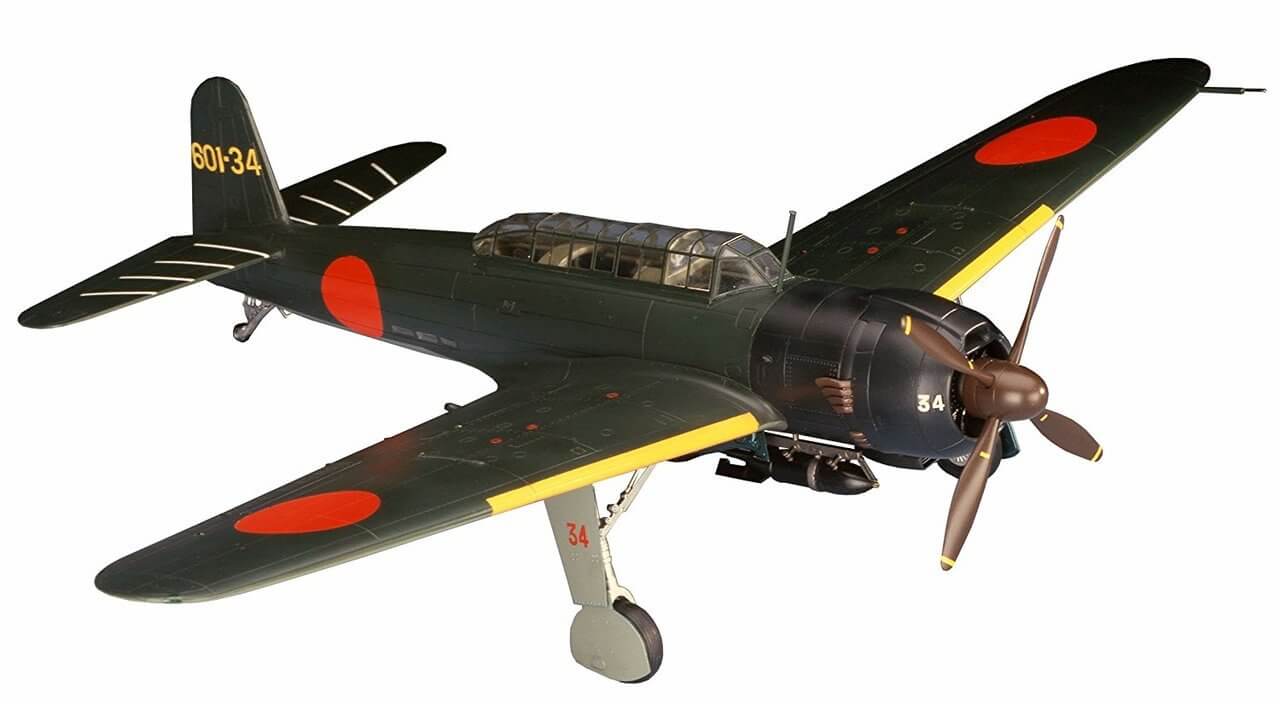 These Hasegawa model airplanes are a must-buy for WWII buffs. During the end of World War II, the Nakajima B6N2 (中島 B6N 天山—"Heavenly Mountain") was the Imperial Japanese Navy's standard carrier-based attack plane. It featured a top speed of 250 knots, a range of 1800 nm, and a 1500 hp engine.
These impressively large planes were packed with features, but the original Mamori engine wasn't reliable enough. Eventually, the engine was replaced with a less powerful Kasei engine that solved the reliability problems. By the end of 1943, the Nakajima B6N2 was no longer utilized in service.
This is a top-quality skill level 3 kit with 160 pieces. It includes two decal options:
a/c# 52-33, 256th Attack Sqdn, 752nd Naval Flying Group, IJN
a/c# 210-318, 210th Naval Flying Group, IJN
5. Hasegawa 07457 Mitsubishi F-2B "21SQ 40th Anniversary Detail up Ver." 1/48 Scale Kit
The Mitsubishi F-2 was manufactured by Japan and America for the Japan Air Self-Defense Force. It improved upon the classic F-16A, offering a larger wing area, a reduced weight and radar signature, a longer and wider nose, a larger tailplane, a larger air intake, and more. The F-2B is a two-seat training version of the F-2.
These historic limited edition Hasegawa model airplanes celebrate the 40th anniversary of the unit. These collectible kits feature a special 40th anniversary decal, as well as photo-etched components. It's a 186-piece skill level 3 kit.
Order the Best Hasegawa Model Airplanes at Plaza Japan
We're proud to offer a huge selection of Japanese scale model kits, including a wide variety of Hasegawa products. These are some of our favorites, but make sure you browse our inventory to find the kit that grabs you. If you have any questions or comments, please feel free to email info@plazajapan.com, or get in touch with us through our online contact form now.
Every model collection deserves a few museum-quality Hasegawa model airplanes. Get the best deal on authentic Japanese products when you shop online at Plaza Japan.